Venue
Hotel "Croatia" , Cavtat
Hotel "Croatia"
The Conference will take place at the luxurious five star hotel "Croatia" in Cavtat, Croatia, only 10 minutes (6 km) from Dubrovnik International Airport. The hotel, located on a peninsula surrounded by the crystal clear Adriatic Sea offers a picturesque view of the city of Cavtat.
Cavtat
Cavtat landscape
Cavtat, ancient Greek Epidaurum, is a small city near Dubrovnik at the southern part of the Adriatic Sea. Besides its natural beauty full of sun and with unique golden sunsets, Cavtat also has a rich and interesting past. According to legends and chronicles, refugees from Epidaurum, escaping invasion of Slavs and Avars, established Dubrovnik. During the 15th century Cavtat became a part of the Republic of Dubrovnik. The city boasts remains of various cultures: Rector's Palace, Bogisic's scientific collection, Vlaho Bukovac Art Gallery, Racic Mausoleum designed by the famous Croatian sculptor Ivan Mestrovic, Sipun cave, etc. Today, Cavtat is a very attractive mixture of old and new architecture, and lush Mediterranean vegetation.
Dubrovnik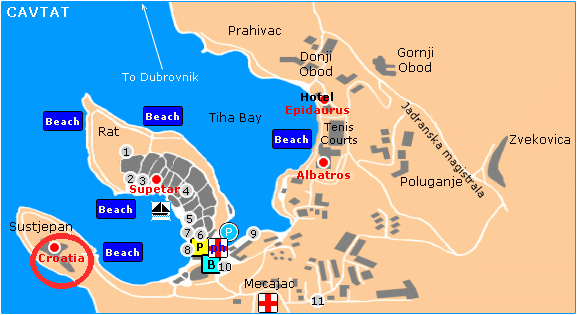 Dubrovnik
The city of Dubrovnik, cut in stone below the hill of Srdj, washed by the sea and surrounded by colorful Mediterranean gardens has always been the symbol of the pure beauty of nature combined with human creativity, love of freedom and sense of modesty. Once a powerful tiny state, the beauty of which has always been the challenge and inspiration of artists as well as destination of numerous native and foreign visitors, a Gothic - Renaissance - Baroque city of Dubrovnik is today one of the most significant Croatian and also European cultural heritage.
Croatia
The Republic of Croatia is a Central European, Adriatic-Mediterranean, Panonian and Danube-basin country. The capital of our beautiful homeland is the 900 years old city of Zagreb.
The geographic shape of today's Croatia is the shape of an extended horse shoe formed by elongated Adriatic and Pannonian strips.
The Croatian Adriatic sea is one of the most beautiful seas in the world. Adriatic coast - called the coast of one thousand islands.
Latest News
ITI 2005 Conference Ended

ITI 2005 Conference ended on June 23, 2005 with the Closing Session.

Student Paper Competition for undergraduate and graduate students (with prizes sponsored by Microsoft Hrvatska and SAS Institute) was featured for the second time at the ITI Conference.
The winners were:
Golden winners:
- David Bell, Department of Information Systems and Computing, Brunel University, UK , - Frane Šarić, Faculty of Electrical Engineering and Computing, University of Zagreb
Silver winners:
- Matko Botinčan , Department of Mathematics, University of Zagreb
- Igor Grudenić Faculty of Electrical Engineering and Computing, University of Zagreb
- Rikard Land, Mälardalen University, Department of Computer Science and Electronics, Sweden

Congratulations!