ITI 2009 - Cavtat is located south of Peljesac penninsula, at the very south of the Republic of Croatia - 18 km from Dubrovnik, and only 6 km from the Dubrovnik International Airport.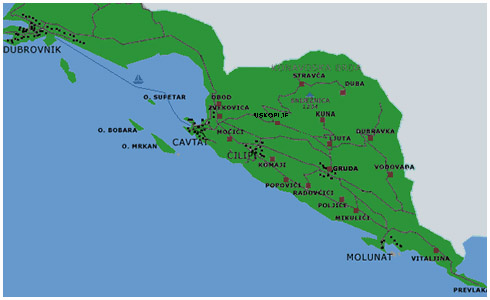 Visa Regulation
For citizens of countries that need Visa for coming to Croatia (eg. Albania, Nigeria) here is some useful information. You can download Visa Application Form here.
Fill this form and attach ITI 2009 Registration Confirmation Letter you received after registration, Hotel Reservation and Flight reservation, and contact your nearest Croatian Embassy.
Do not forget to take your passport and picture (30 x 35 mm). Travel visa expenses are 160 kn (about 25 EUR).

For Visa Information visit http://www.mfa.hr/MVP.asp?pcpid=1615, and under Visa Requirement Overview select your country.

TRAVELING TO CROATIA
By Air
Traveling by plane is a convenient and comfortable way to visit Dubrovnik. Many European companies have regular flights to Zagreb and from there the Croatian national carrier, Croatia Airlines, provides regular flights to Dubrovnik. The airport is called Cilipi and it is located about 18 km from Dubrovnik center, and only 6km from Cavtat.
Dubrovnik Airport
Flights and timetables
web: http://www.airport-dubrovnik.hr/index.php?lang=en
Croatia Airlines - Dubrovnik
Poslovnica Dubrovnik, Brsalje 9
tel: *385 20 413 777, 413 776, fax: +385 20 413 993,
working hours: 8 - 16 h, Saturday 9 - 12 h,
web: http://www.croatiaairlines.hr/
e-mail: ctn.sales@ctn.htnet.hr

For reservations and booking call: +385 62 777 777

Croatia Airlines - Zagreb
Teslina 5, 10000 Zagreb
phone: +385 1 616 02 46, fax: +385 1 616 02 90
Berislaviceva 2, 10000 Zagreb
phone: +385 1 616 02 16, fax: +385 1 481 96 32
Information phone: +385 800 7777, +385 1 481 96 33
Reservation phone: +385 62 777 777, +385 1 487 27 27
Airport Zagreb phone: +385 1 456 21 82, +385 1 456 22 34, fax: +385 1 721 192
International Flights from/to Zagreb:
Amsterdam, Barcelona, Berlin, Brussels, Copenhagen, Düsseldorf, Frankfurt, Gothenburg, Istanbul, London, Madrid, Moscow, Munich, Paris, Prague, Rome, Sarajevo, Skopje, Stockholm, Stuttgart, Vienna, Warsaw and Zurich.
International Flights from/to Dubrovnik:
Amsterdam, Frankfurt, London, Manchester, Paris, Rome and Vienna.
Domestic Flights from/to Zagreb:
Dubrovnik, Pula, Split, Zadar

By sea
Another pleasant way of traveling to Dubrovnik is by sea. There are international and coastal ferry lines arriving and departing from Dubrovnik. Jadrolinija is the main Croatian passenger ferry company, with the highest number of regular international and domestic lines. The other Croatian shipping and freight agency is Jadroagent Ltd.
Tickets:
JADROLINIJA
Obala S. Radica 40, Dubrovnik
Phone: 418 000, Pho/fax: 418 111
JADROAGENT
Obala S. Radica 40, Dubrovnik
Tel: 419 000, 419 009, Fax: 419 029, E-mail: jadroagent-dubrovnik@du.htnet.hr
More information can also be found on the pages of Port of Dubrovnik authority, Gruska obala 1, 20 000 Dubrovnik, Tel / Fax: +385 20 418 511
International ferry lines:
Zadar - Brbinj (Dugi otok) - Ancona;
Zadar - Ancona; Split - Ancona;
Split-Stari Grad (Hvar)-Korcula-Ancona;
Dubrovnik -Bari.
Timetables for international ferry lines arriving and departing from Dubrovnik.
By rail
The rail network connects all major Croatian cities, except Dubrovnik. There are direct trains to Slovenia, Hungary, Italy, Austria, Switzerland, Germany, Bosnia-Herzegovina and other countries. Indirect connections also exist, conecting Croatia to almost all other European countries. If you plan to travel by rail the best way is to arrive to Zagreb or Split and take the bus from there to Dubrovnik.
Information can be obtained at phone: 01 4573-253, 4573-238 or at the
Croatian Railroads official pages: http://www.hznet.hr/.
Eurocity and Intercity trains:
EC Mimara: Munich - Salzburg - Villach - Ljubljana - Zagreb;
EC Agram: Salzburg - Villach - Ljubljana - Zagreb;
IC Sava: Villach - Ljubljana - Zagreb - Belgrade;
IC Croatia: Vienna - Maribor - Zagreb;
IC Kvarner: Budapest - Koprivnica - Zagreb - Rijeka.
By coach
The bus service offers cheaper alternative for travel across Croatia and to Dubrovnik. Throughout Dubrovnik region, even the smallest villages have some sort of bus connection. There are express buses which cover longer distances and are very comfortable. In almost every larger town, there is a bus station (Autobusna stanica or Autobusni kolodvor) where tickets are sold and timetables are clearly displayed.
In Dubrovnik the main bus terminal is located in Gruž where both local and international coaches arrive.
DUBROVNIK MAIN BUS TERMINAL, Put Republike 19, phone: +385 20 357 088
ZAGREB MAIN BUS TERMINAL, http://www.akz.hr/

A wide variety of information for people traveling to Croatia was prepared by the Croatian National Tourist Board.