INFORMATION TECHNOLOGY INTERFACES ITI 2003
Cavtat, Croatia, June 24-27, 2003

Special Session: "Computer at the University"

Invited speakers:
Ivan Bratko, University of Ljubljana, Slovenia
Ivica Crnkovic, Mälardalen University, Idt, Sweden
Richard D. De Veaux, Williams College, USA
Daniel D. Gajski, University of California, Irvine, USA
Ingram Olkin, Stanford University, USA
Mladen A. Vouk, North Carolina State University, USA

Conference web.
Conference photos.

Conference program.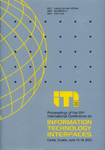 Scanned proceedings cover