INFORMATION TECHNOLOGY INTERFACES ITI 1995
Pula, Croatia, June 13-16, 1995

Invited speakers:
Rainer E. Burkard, Technische Universitaet Graz, Austria
Virginio Cantoni, Universita di Pisa, Italy
Geoff Coulson, Lancaster University, UK
Leopold Kopsa, Federal Ministry of Economic Affairs, Austria
Nikola Pavešič, University of Ljubljana. Slovenia
Darko Skorin-Kapov, State University of NY at Stony Brook, USA

Conference summary.

Conference proceedings.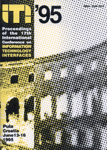 Scanned proceedings cover